Coronavirus scams on vulnerable people
News article
Policy and Public Affairs
How to protect people affected by dementia from becoming the victim of financial fraud.
Reports of fraud and cyber crime have increased due to the increase of people working from home. While many firms and information services have provided warnings and advice on how to spot a scam, vulnerable people are still particularly susceptible.
The charity Alzheimer's Society have identified that certain vulnerable groups may be ore at risk due to the uncertainty around the current pandemic that some people are looking to exploit:
"Being home alone whilst self-isolating could mean some people affected by dementia are more likely to be vulnerable to financial abuse. Coronavirus-related scams can take place over the phone, online and face-to-face."
Insurance United Against Dementia is an Alzheimer's Society movement created and championed by leaders from across the insurance sector aiming to galvanise the industry to support people living with dementia and funding vital research. To raise awareness, they have created a series of resources that encourages people to be more cautious about suspicious phone calls or letters, as well as screenshots of actual fake websites and emails as examples. As part of this they published a four-step guide[1] on ways to avoid coronavirus scams:
1. Be wary of fake online companies
There have been reports of people who have purchased protective face masks or coronavirus testing kits online that have then not arrived.
They were purchased from fraudulent sellers who have stolen money from the victims.
2. Learn how to spot a phishing email
Fraudsters are also sending out coronavirus-themed emails that appear to be from a legitimate company, government department, utility provider financial service.
They attempt to trick you into clicking on a malicious link in the email then ask you to provide sensitive information e.g. personal and financial details. This is known as 'phishing'.
One common tactic used by fraudsters is to contact potential victims over email purporting to be from research organisations affiliated with the Centers for Disease Control and Prevention (CDC) and the World Health Organisation (WHO).
They claim to be able to provide the recipient with a list of coronavirus infected people in their area. In order to access this information, the victim needs to click on a link, which leads to a malicious website, or is asked to make a payment in Bitcoin.
3. Stay safe from 'do-gooders' who ask for money upfront
Since everyone must now stay at home and avoid unnecessary travel, there have been reports of people using coronavirus as a guise to gain entry to homes and steal.
Whilst isolating, you may be approached by volunteers who you don't recognise, offering to do your shopping for you.
Don't feel pressured to accept help from, or answer your door to, a stranger.
4. Keep away from bank or utility impersonators
There are reports of people receiving emails or phone calls claiming to be your bank or utility provider asking you to move money to another account, to make a payment or to provide personal or financial information.
Alzheimer's Society have also created a handy electronic postcard[2] that can be printed off or shared easily, summarising the main points on how to spot fraud: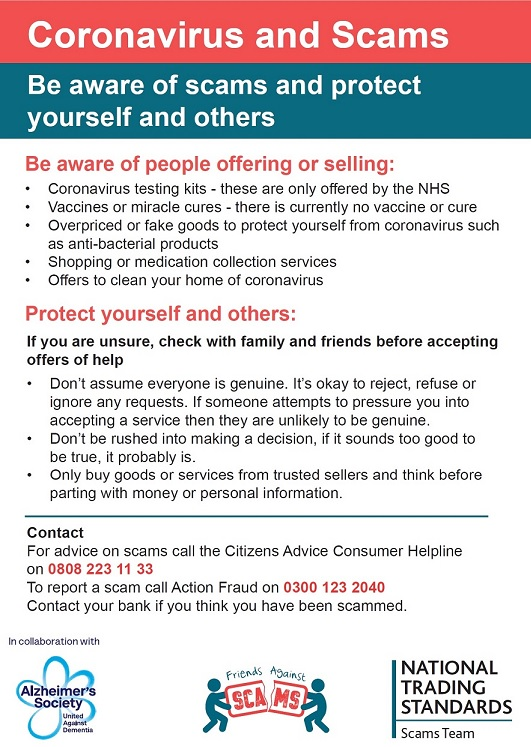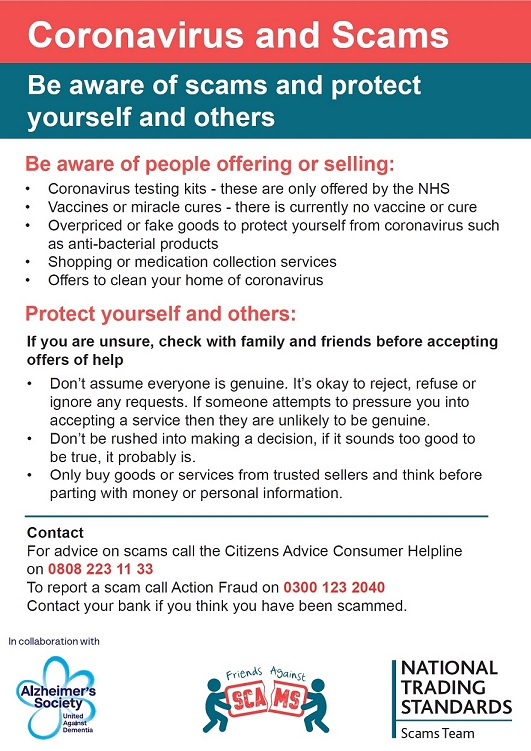 In response to the COVID-19 pandemic, Alzheimer's Society's Insurance United Against Dementia (IUAD) campaign has also launched an emergency fundraising appeal to help mitigate the impact of COVID-19 on people affected by dementia right now. For more details on how to get more involved and donate, please click here.
[1] https://www.alzheimers.org.uk/blog/coronavirus-covid-19-scams-people-affected-dementia
[2] https://www.alzheimers.org.uk/sites/default/files/2020-04/Dementia-friendly-postcard_Scams-April2020.pdf
For more information about how the coronavirus is affecting those living with dementia, you can visit the Alzheimer's Society website.
To find out more on how insurance can be more 'dementia-friendly', you can read the Good Practice Guide here.
This document is believed to be accurate but is not intended as a basis of knowledge upon which advice can be given. Neither the author (personal or corporate), the CII group, local institute or Society, or any of the officers or employees of those organisations accept any responsibility for any loss occasioned to any person acting or refraining from action as a result of the data or opinions included in this material. Opinions expressed are those of the author or authors and not necessarily those of the CII group, local institutes, or Societies.